In Nieuwsbrief voor Goede Onderzoekspraktijken nr. 58 van 10 juni 2018 werd gemeld dat het Management Board van het European Medicines Agency (EMA) de ontwikkeling van de EU portal en EU database heeft besproken tijdens haar vergadering afgelopen juni.
Het nieuws over de ontwikkeling van de EU portal en EU database kan als volgt worden samengevat: de 'auditable release' van de portal komt "binnenkort" beschikbaar, de user acceptance testen vinden rond november plaats, en begin 2019 zou de audit moeten plaatsvinden.
Volgens de oorspronkelijke planning uit 2015 zou Verordening (EU) nr 536/2014 betreffende klinische proeven met geneesmiddelen (ECTR) in oktober 2018 van toepassing worden. Door vertragingen bij de ontwikkeling van de software moest de datum reeds worden uitgesteld naar begin derde kwartaal 2019:
The Commission is intent on having July 2019 as the date from which the regulation applies.
– bron: EMA 'Minutes of the 98th meeting of the Management Board', d.d. 15 december 2017, p. 14
Het persbericht naar aanleiding van de 100ste vergadering van het Management Board doet mij echter vermoeden dat ook het derde kwartaal van 2019 niet gehaald gaat worden.
Als ik met behulp van de uit het bericht genoemde mijlpalen de in de oorspronkelijke planning genoemde data 'corrigeer', dan lijkt het mij waarschijnlijker dat de ECTR niet eerder dan in maart 2020 van toepassing zal worden (op voorwaarde dat de audit in januari 2019 van start gaat).
Redenen dat ook maart 2020 niet gehaald gaat worden zijn, naast de voor de audit gehanteerde definitie van 'begin 2019', de Brexit en de verhuizing naar Amsterdam.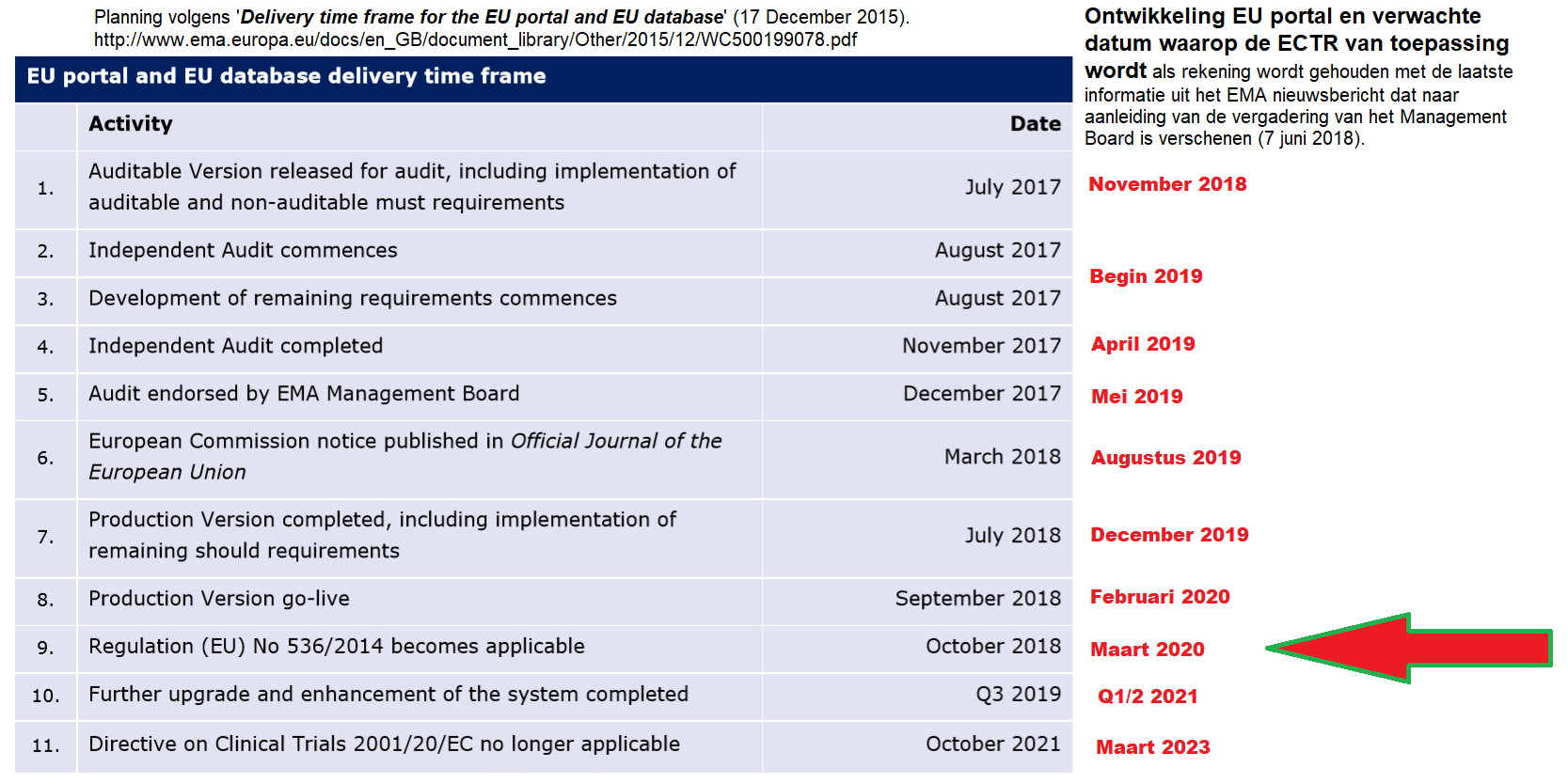 Bronnen