Hierbij een nieuwe uitgave van het supplement 'Uitgelicht en gespot op internet', met een overzicht van nieuws en andere berichten die de afgelopen weken zijn gespot op het internet.
Vergeet niet om ook de 'Consultations'-overzichtspagina (consultations.bontrop.com) en de 'Events' overzichtspagina (events.bontrop.com) te raadplegen. Er zijn weer een aantal nieuwe events toegevoegd, zoals de RSNN Annual workshop 2022 – "Patient preferences: towards a more structural incorporation in the regulatory pathway" die op 5 september 2022 zal plaatsvinden in Utrecht.
'Uitgelicht en gespot op internet' is een supplement van de 'Nieuwsbrief voor Goede Onderzoekspraktijken'.
---
Algemene verordening gegevensbescherming, Data delen, Gezondheidsgegevens,
Australian Commission on Safety and Quality in Health Care (ACSQHC).

Clinical research, Clinical trials registration, Clinical trial results reporting, Protocol publication
Committee on Publication Ethics (COPE)

Diversiteit, Inclusiviteit, Representativiteit
Dutch Oncology Research Platform (DORP)
Embryo-onderzoek, Blastoïden

European Clinical Research Infrastructure Network (ECRIN)
European Federation of Pharmaceutical Industries and Associations (EFPIA)
European CRO Federation (EUCROF)
European Medicines Agency (EMA), Good Clinical Practice, Inspections
Geneesmiddelenontwikkeling
Genome editing
International Council for Harmonisation (ICH)
League of European Research Universities (LERU)
Nederlands Trial Register, Netherlands Trial Registry


"Het Nationaal Trial Register (NTR) is niet meer beschikbaar. Het Landelijk Trial Register, waarin het CCMO-register en het NTR zullen worden samengevoegd is nog niet klaar voor gebruik."

Overgenomen van: CCMO Nieuwsbericht 'Nationaal Trial Register (NTR) niet meer beschikbaar' d.d. 24-06-2022
National Institute for Health and Care Excellence (NICE), Verenigd Koninkrijk
Medical Device Regulation (MDR), In Vitro Diagnostic Regulation (IVDR), Medical Device Coordination Group (MDCG)
Proefschriften
Publiceren
Research integrity, Misconduct
U.S. Food and Drug Administration (FDA)
Verenigd Koninkrijk
Wet zeggenschap lichaamsmateriaal (Wzl)


Volg het wetsvoorstel (via de website van de Eerste Kamer) → Regels voor handelingen met lichaamsmateriaal, welke worden verricht voor andere doeleinden dan geneeskundige behandeling of diagnostiek van de donor (Wet zeggenschap lichaamsmateriaal) (35.844)
ZonMw, NWO, Hoofdzaken
Overige berichten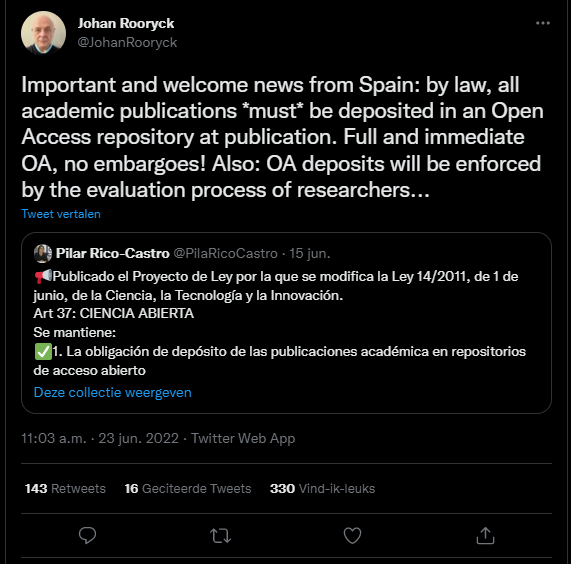 ---
Op de hoogte blijven van actueel nieuws, bijeenkomsten en publieke consultaties