Uitgelicht en gespot op internet (week 39, 40 & 41, 2023)
Hierbij een nieuwe uitgave van 'Uitgelicht en gespot op internet', een supplement van de 'Nieuwsbrief voor Goede Onderzoekspraktijken', met een overzicht van nieuws en andere berichten die zijn gespot op het internet.
Mede door andere werkzaamheden is het mij niet gelukt de voorgaande weken een nieuwe 'Uitgelicht en gespot' op mijn weblog te plaatsen. Inmiddels heb ik mijn e-mailboxen doorgeploegd, mijn LinkedIn bookmarks nagelopen en w.v.t.t.k. bijeengebracht en heb ik dit bomvolle overzicht weten te produceren. De afgelopen dagen heb ik wel meerdere malen moeten denken aan de quote uit Flodder, "Leuk zo'n feestje, maar 't geeft altijd zo'n rommel hé?!". Maar uiteindelijk is het ook deze keer weer gelukt. Mocht er nog wat nieuws ergens zijn blijven liggen of vergeten zijn, geef het gerust aan mij door via het contactformulier.
Veel leesplezier!
Met vriendelijke groet,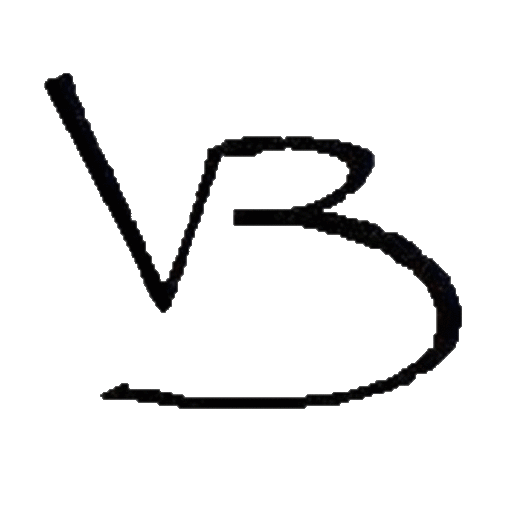 Vincent Bontrop
www.bontrop.com
U kunt met mij linken via LinkedIn.
---
Centrale Commissie Mensgebonden Onderzoek (CCMO)
Centre for Future Affordable Sustainable Therapy development (FAST)
Clinical Trials Regulation (CTR)
Accelerating Clinical Trials in the EU (ACT-EU)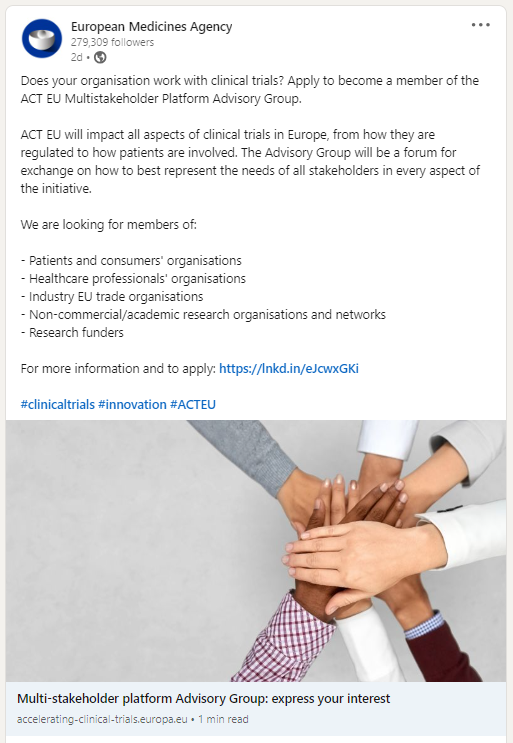 Centrale Commissie Mensgebonden Onderzoek (CCMO)
Clinical Trials Expert Group (CTEG)
EudraLex
De wijzigingen ten opzichte van de voorgaande versie zijn:
Review of point 102.
New Q&A 7.51
Review Q&A 9.4
Annex II: NL (fields of the application form) ; SK, EE, LV (patient facing documents)
Annex III : LU contact points for part I and II
European Medicines Agency (EMA), Management Board, Transparancy, Clincal trial data publication
Management Board d.d. 5 oktober 2023: "The Board adopted revised transparency rules for the publication of information on clinical trials submitted through the Clinical Trials Information System (CTIS). The revision focuses on the early publication of clinical trial data and documents that are most relevant for the public, including patients and the researcher community. More details about the revised transparency rules are available in a news announcement published on EMA's corporate website.

Support for the implementation of the Clinical Trials Regulation (CTR) remains a priority. EMA presented the operational experience and recent improvements implemented in CTIS. The monthly number of submissions of clinical trials through CTIS continues to increase. By the end of August 2023, over 2000 initial applications have been submitted through CTIS, since launch of the system at the end of January 2022. The Board welcomed EMA's continued efforts to support stakeholders via workshops, trainings and regular communications.

The EMA, European Commission and Head of Medicines Agency-led Accelerating Clinical Trials in the EU (ACT EU) initiative seeks to transform how clinical trials are initiated, designed and run in Europe. The Board welcomed the agreed model for the ACT EU multi-stakeholder platform to ensure that the initiative is driven by the views of stakeholders. EMA recently launched a dedicated ACT EU website to facilitate dissemination of information about the initiative."

bron: EMA nieuwsbericht.
Federaal Agentschap voor Geneesmiddelen en Gezondheidsproducten (FAGG) (België) 
Medical Device Coordination Group (MDCG)
Overige berichtgeving
Clinical trials, ECRAID, Good Clinical Trials Collaborative, Decemtralised clinical trials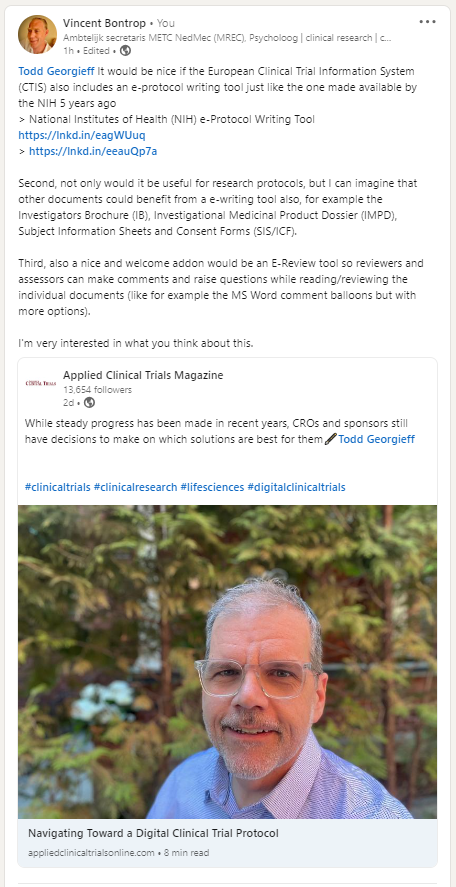 Data delen, Data hergebruik, Data Management Plans, Data beveiling, Privacy

Dutch Clinical Research Foundation (DCRF)

Dutch Oncology Research Platform

Mede door dit nieuws heb ik afgelopen weekend de tijd en moeite genomen om alle linkjes van deze pagina's, documenten en toolkits die beschikbaar zijn hieronder weer te geven.
ELIXIR
European Health Data Space (EHDS)

European Medicines Agency  (EMA), International Council for Harmonisation of Technical Requirements for Pharmaceuticals for Human Use (ICH)

Europese Unie (EU), Europese Commissie, Geneesmiddelenwetgeving, Wetgeving, Regeldruk

Fraud, Misconduct, Integrity, Pseudoscience
"… anyone could reflect on the matters of research ethics and research integrity, and anonymously share their reflections with the BEYOND team.

The public consultation provides a brief online response form where we aim to explore research ethics and research integrity practice and research misconduct from the point of view of the general public and different stakeholders. The public consultation is central to BEYOND project for building a dialogue with the society and stakeholders on research ethics and research integrity. We truly appreciate every submission, as it brings us one step closer towards our goal of preventing research misconduct."

bron: BEYOND nieuwsbericht
Gentherapie en GGO
Health Holland
Health-RI
Informed consent, Geinformeerde toestemming, eConsent, Electronische toestemming

Inspectie Gezondheidszorg en Jeugd (IGJ)

Kunstmatige Intelligentie (KI)
Medicines and Healthcare products Regulatory Agency (MHRA), NHS Health Research Authority (HRA)

Medische hulpmiddelen, Neuralink
Nieuwsbrief voor Goede Onderzoekspraktijken

Nederlandse Vereniging voor Farmaceutische Geneeskunde (NVFG)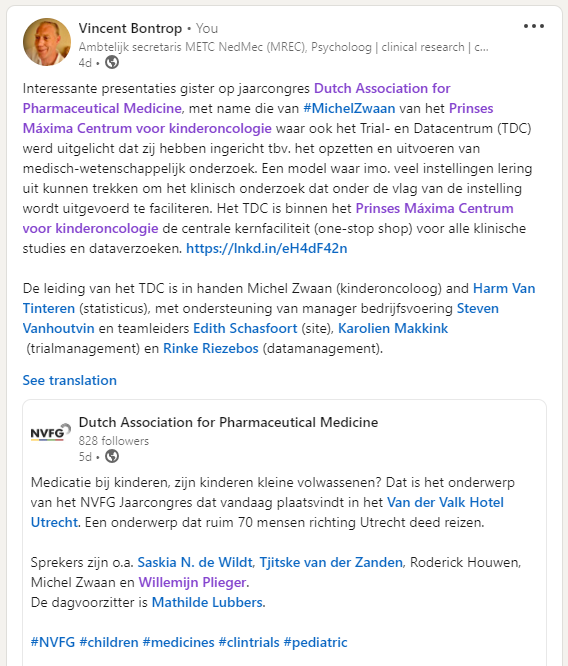 Reporting guidelines, Research output
Ruimtevaart, Human research in commercial spaceflight
Podcast Focus over proefpersonen
Reproduceerbaarheid
Stichting Code Geneesmiddelen Reclame (CGR)
TransCelerate Biopharma Inc.
US Food and Drug Administration's (FDA), HHS Office of Research Integrity (ORI)
Xenotransplantatie, Genoombewerking
Zorgevaluatie en Gepast Gebruik (ZE&GG)
---
Op de hoogte blijven van actueel nieuws, bijeenkomsten en publieke consultaties