Uitgelicht en gespot op internet (week 52, 2021)
Hierbij weer een overzicht van artikelen en berichten die de afgelopen week zijn gespot op het internet.
Vergeet niet om ook de 'Events' pagina en de 'Consultations'-pagina te bezoeken.
---
Algemene verordening gegevensbescherming (AVG)

Centrale Commissie Dierproeven (CCD)
Clinical trials
Drug development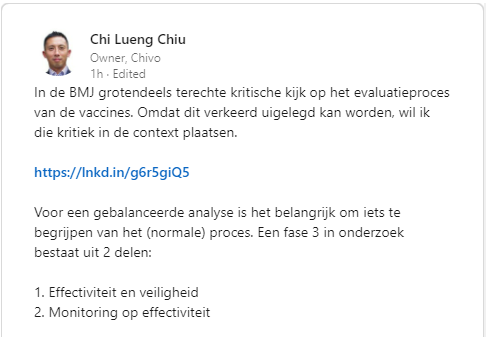 Dutch Association of Research Quality Assurance (DARQA)
European Medicines Agency (EMA)
Inspectie Gezondheidszorg en Jeugd (IGJ)
Door de COVID-19 pandemie is de inspectieplanning voor 2020 en 2021 aangepast. De  uitgevoerde inspecties klinisch onderzoek hadden met name betrekking op onderzoek dat gericht was op het behandelen of het voorkomen van COVID-19. Daarnaast heeft IGJ tijdens deze pandemie geregeld contact gehad met veldpartijen over de organisatie en de uitvoering van medisch-wetenschappelijk onderzoek met mensen. In deze periode is informatie over hoe met klinisch onderzoek om te gaan op de website van IGJ gepubliceerd. In 2022 zullen dit type inspecties deels worden voortgezet.

bron: Inspectiefocus en -resultaten klinisch onderzoek, IGJ website.
Medicines & Healthcare products Regulatory Agency (MHRA)
Nationaal Comité advies dierproevenbeleid (NCad)
Overige berichten
---
Op de hoogte blijven van actueel nieuws, bijeenkomsten en publieke consultaties